Amasty Color Swatches Pro for Magento 2
SKU
Amasty-Color-Swatches-Pro-M2
Provide customers with the most fulfilling shopping experience possible. Enrich the Magento 2 Color Swatches functionality with a bunch of new features.
Color Swatches Pro v2.3.7 for Magento 2
Provide customers with the most fulfilling shopping experience possible. Enrich the Magento 2 Color Swatches functionality with a bunch of new features.
Display price of simple products
Change product image on mouse hover
AJAX product info reload for better perception
Group related colors and show more items in search results
Let customers share URLs with selected product configurations
Fully optimized for mobile
The core part of your Magento web store is simple products. Hundreds and thousands of simple products. Technically, they may be part of the configurable, bundle, or virtual products. And when it comes to their presentation it can be rather complex. With the Color Swatches Pro extension, you can make sure all of your simple products are presented in the right and proper way. Make good steps on the way to providing better shopping experience.
EXCEPTIONAL PRESENTATION
Ecommerce has its specifics: customers cannot touch and examine goods in their hands as they do in regular store. Instead while online, they want as much detailed information on products as possible. Manage a vivid many-sided presentation of your goods: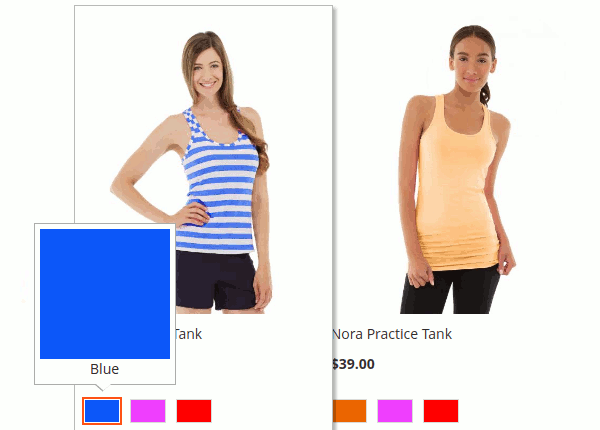 Change main product image on mouse hover
Let your customers switch between product variants simply hovering over the swatches.
Show relevant product info on the cart and checkout pages
Always display only relevant simple product information on the cart and checkout pages.
Use smart page reload
The data as image, price, SKU will be reloaded automatically after customers select a particular option.
VARIOUS PRICE DISPLAY
Shoppers are always attentive to sales and disocunts, they concern about price a lot. It's in your interest to keep all the price details in order and display everything accurately:
Display prices with swatches
Display prices of the simples below corresponding swatches on a parent item page. Also, mark an out-of-stock item as a crossed-out swatch.
Display prices in drop-downs
You can also show prices in drop-downs. Choose whether to show the actual simple product price or the price difference.
NEW | Configurable Preselect
Apply preselect feature to display the cheapest or the first simple item on a product page by default.
ZOOM & LIGHTBOX
Highlight the quality of your goods with a must-have option for any product store. To perfectly display the goods with many details and nuances, use lens zoom functionality. Not to overweigh customers' attention - select inner zoom. Also, you can improve shopping experience with neat carousel. And a lightbox to focus customers on particular aspects.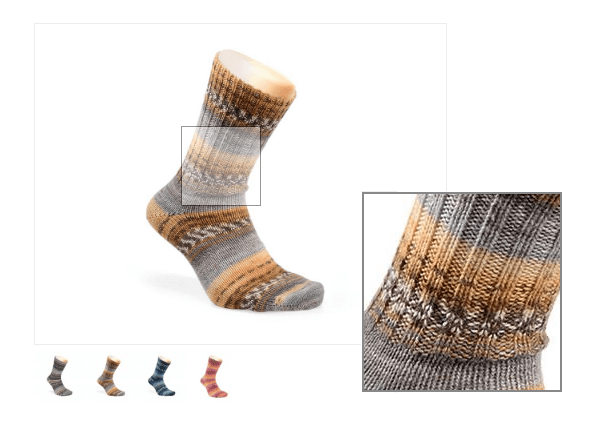 Outside Zoom
Inner Zoom
Lens Zoom
Carousel options
Smart Lightbox
NEW | Image Flipper
ADVANCED OPTIONS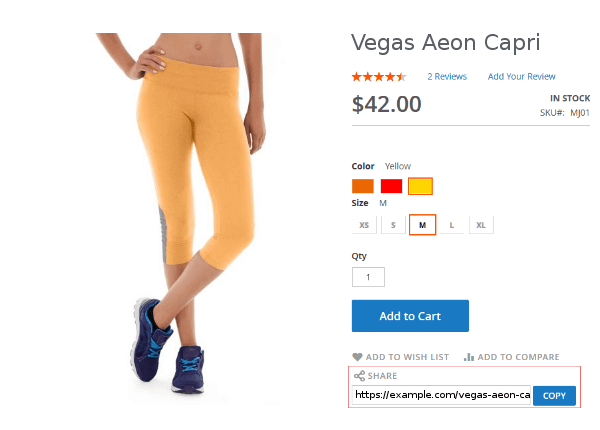 Share URLs with custom options
When a customer chooses different item options like (color, size etc.), the product page URL automatically changes. Now it's possible to copy and share such URLs with others or simply bookmark
More items in search result
Suggest more variants to your customers when they search by colors. Associate related colors in one group and let customers find their desired products faster.
POLISH COLOR SWATCHES FUNCTIONALITY TO MAKE IT SHINE
Limit the number of swatches on category pages
Manage the number of swatches displayed under the main product image. In case the number of visible swatches is limited, customers will see a link like More Colors Available.
Enjoy the synergy of two modules: now predefined product options will be displayed on the customized cart and checkout pages. So that your customers will derive pleasure from the shopping process and definitely come back to your store again.
Let customers subscribe to out of stock options of configurable products
In case some of simple options of any configurable product are currently out of stock you can display them and let customers subscribe to a special notification letter. Motivate shoppers to return to your store. Check our Out of Stock Notificationextension to use this feature.
Free Labels
You can greatly enhance your web store visual presentation withfree Amasty product labels' pack.
OTHER FEATURES
100% Open Source — Easy To Customize
Follows Magento Code Architecture
Separated HTML/CSS/JS
Simple installation via Composer
More Information

| | |
| --- | --- |
| PROVIDER | AMASTY |
| PLATFORM | MAGENTO 2 |
| CURRENT VERSION | N/A |
| TYPE | N/A |
| CATEGORIES | N/A |
| COMPATIBLE WITH | COMMUNITY 2.1, COMMUNITY 2.2 |
| MAGENTO APPROVED | No |