Amasty XML Google® Sitemap for Magento 2
SKU
Amasty-XML-Google-Sitemap-M2
Automatically generate XML Sitemaps in an efficient way. Let your web store communicate with the search engines quickly and properly.
XML Google® Sitemap v1.3.2 for Magento 2
Automatically generate XML Sitemaps in an efficient way. Let your web store communicate with the search engines quickly and properly.
Index your content much faster
Include or exclude various types of pages
Specify frequency of updates for each type of pages
Set priority of importance for group of links
Add images with titles and templates
Your web store has a complex structure? Difficult to navigate? Help Google to index your content correctly and quickly.
Google has specific rules for sitemap generation. It is useful to have your XML sitemaps built automatically with a help of Magento 2 xml sitemap extension in order to meet all the requirements. Faster indexing of new pages shortens the time your new products appear in Google.
ADVANCED OPPORTUNITIES TO IMPROVE SEO
Make your web store more SEO-friendly
You have a web store full of highly-demanded goods and their descriptions are great as well. You did a great job to satisfy your customers. But dealing with SEO, apart from visitors, you have to care about search engine crawlers. XML sitemap extension will help you to introduce your web store to Google in the most appropriate way.
Google robots will certainly find necessary pages
Search engine crawlers need their guide to scan your website. They use a sitemap, which contains all the necessary group of links. Robots take it as a basis when indexing the pages. With Magento 2 Sitemap extension, search engine crawlers are going to find new pages faster and more efficiently. Let your web store be the original source of your content.
BETTER FUNCTIONALITY FOR PROPER SETTING
Include any links in your sitemaps:
Magento 2 XML sitemap allows to include links from various locations:
Category pages;
Product pages;
CMS pages;
Extra links.
Include images in the sitemap to bring more traffic
Magento 2 Google® sitemap extension offers an easy way to include any images in your sitemap. Included images may bring you more traffic when Google indexes them.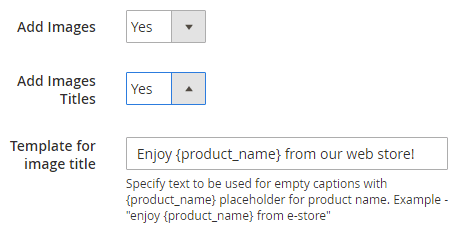 Relevant language and content for your target audience
When you want to translate your website (fully or only some templates) to properly present it to the different regional groups, you need to take SEO into consideration. Hreflang tag support feature will help you to show relevant content to a particular audience.
Use hreflang to find alternative links within one website or between various;
Select the language you want to share your content in;
Select the country you want to introduce your content in;
Relate various pages based on UUIDs, URL Keys, or IDs.
Google guidelines are followed and respected
To meet all Google's requirements, it is possible to set the maximal quantity of items per sitemap's file. You can also specify the maximal file size in Kb: when it is exceeded, there is a specific index file created.
Remove links easily
For SEO purposes, you may want to exclude some of the links from your sitemaps. You can input URLs to exclude in the general configuration or specifically input URL keys in CMS pages settings.
All the sitemaps in one place
Use a handy grid with all the sitemaps. Easily generate, duplicate, edit, and delete sitemaps on one page. With the grid, you can have a clear vision of the sitemap's parameters, such as selected stores, path, URL, and the time it was generated.
More reliability with advanced settings
There are detailed settings, concerning the priority and frequency. You can set the values specifically for each group of links: Products, Categories, CMS pages, and Extra links. The more appropriate settings you have, the more reliability and trust to your site from Google.


OTHER FEATURES
100% Open Source — Easy To Customize
Follows Magento Code Architecture
Separated HTML/CSS/JS
Simple installation via Composer
More Information

| | |
| --- | --- |
| PROVIDER | AMASTY |
| PLATFORM | MAGENTO 2 |
| CURRENT VERSION | N/A |
| TYPE | N/A |
| CATEGORIES | N/A |
| COMPATIBLE WITH | COMMUNITY 2.1, COMMUNITY 2.2 |
| MAGENTO APPROVED | No |