Mageplaza Magento 2 SMTP Extension - FREE
SKU
MagePlaza-Magento-2-smtp
Magento 2 SMTP helps improve your email reputation which is vital for every email marketing campaign. Say GOODBYE to SPAMBOX now! With friendly configurable port and host, brief modules along with user guide line stick below the fields, this extension is surely be useful for every online store.
Customizable SMTP server
Supports 20+ SMTP service providers
Test email
Email logs
Developer mode
100% FREE, Open-source code
In Magento 2, default email server of inherent hosting will be used to send unregistered emails, which means the reputation for this email is pretty low and they will be rated as untrustworthy content, as a matter of fact your precious emails will be delivered to spamming box without knocking up any notification to receiver. Imagine how enormous detriment your business is having when you couldn't properly send such Order Confirmation, Invoice, Shipment Information,… to their inbox, but classified as spam trash and this is not a professional management.
Email marketing has become a critical campaign with every store owner. From this first simple step by sending email, you are showing customer how sweet honest caring, strong support, kind offering that might attract their attention. In order to maintain hundred of relationship with customer, you have no other choice but deliver templated email and this might cause the biggest frustration of having your business emails getting classified as spam, and they will be automatically moved to spam, being trash forever.
Why need Magento 2 SMTP extension?
To avoid this bombardment, put this in a simple way, Mageplaza SMTP will help you take more control on customization and running test section on Magento 2 SMTP server, increasing almost 99% chance that your emails will approach customer successfully.
Customizable SMTP server in Magento store
Mageplaza SMTP will provide you a friendly configurable port and host, brief modules along with user guide line stick below the fields, that you can figure out its function easily. This extension sure would welcome both beginner and professor to start rocking your business.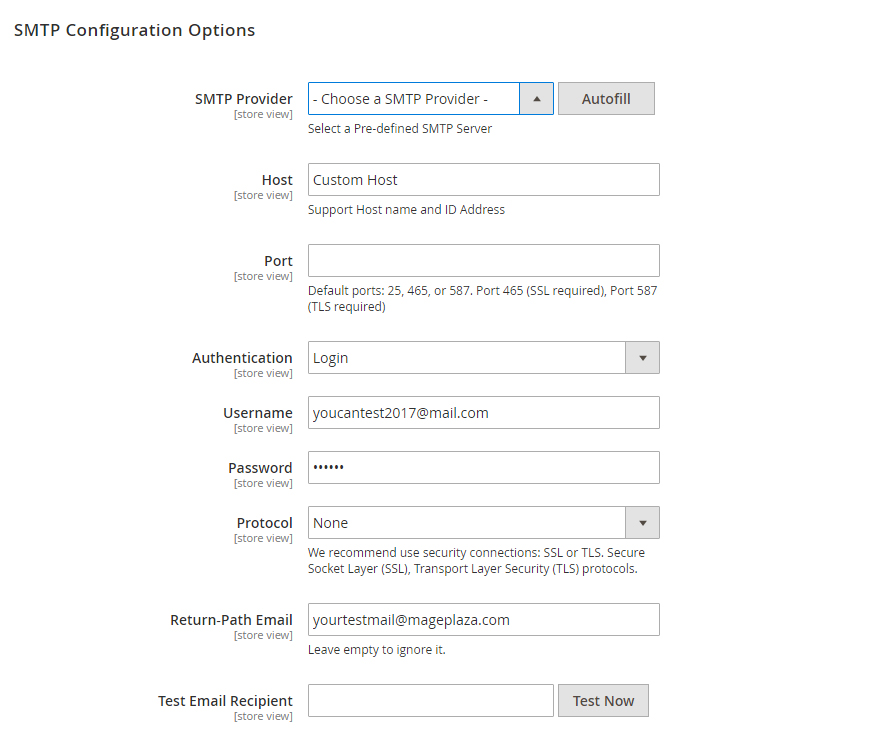 And no worries, with the security issue, Magento 2 SMTP authentication and coherence will be assured safely.
Support almost email service providers
Using your own SMTP server is great, but to save more time in configuration for your email business, you can conveniently customize from one of the most popular email service vendors such as:
SparkPost
Hotmail
Zoho Mail
Postmark
AOL Mail
Comcast
O2 Mail
Orange
Yahoo Mail
Yahoo Mail Plus
Yahoo AU/NZ
AT&T
NTL @ntlworld.com
BT Connect
Verizon
BT Openworld
O2 Online Deutschland
Custom SMTP
Adding the following SMTP providers soon:
SocketLabs
AuthMailer
MailGet Bolt
TurboSMTP
SMTP2Go
AuthSMTP
SMTPProvider
Smtp.com
JangoSMTP
mailget-bolt
Testing email function
This feature will allow you to test by yourself if the current email setting is work properly or not. Keep in mind, the final desire of every sender is the newsletter can reach out the right destination, to their mail box, not spam box.

Take advantage of running testing, visual examination can be performed as you can have general looking back at the intended email again.
Sent-email logs
You will be provided with a vital intelligent block which keeps all sent email logs, permits user to check back who/how they had been sent. Also by cooperation with the running self-test email feature, users will be able to find out the exact mistake when they check the detailed logs, and things would become easier if you could find out the bad apple in process and fix the detected error.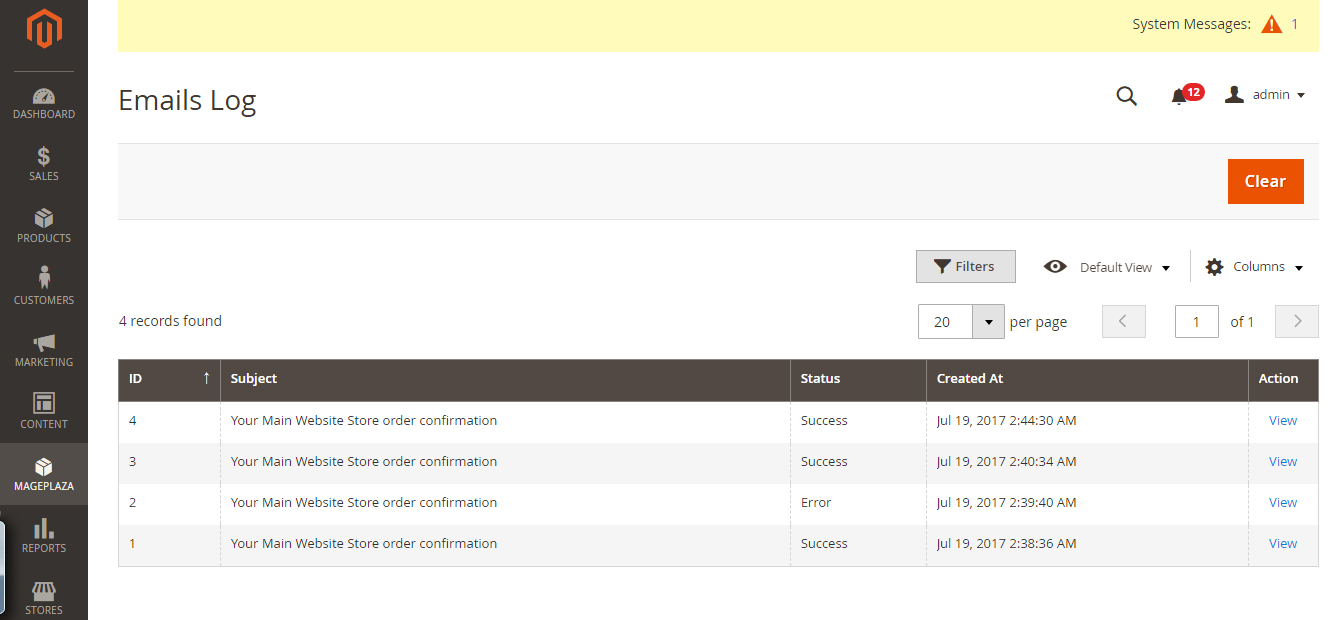 Detailed sent email log can be cleared after a certain duration, feel free to set the suitable amount of time for cleaning automatically or you can do this manually after having checked.
Developer mode
This useful mode is quite easy to get the main point and to be done. Developer can take the control to send emails to receiver or not.
Full feature list
Magento 2 SMTP full feature list
Support 20+ SMTP email service providers
Testing email mode
Check back email displaying by customer view's
Archive sent emails in log
Schedule log cleaner
Customizable SMTP server
Secure Magento 2 SMTP authentication and coherence
Decrease the maximum risk email go to Spam box
Auto filling Host, Port, Authentication and Protocol after choosing SMTP Provider
Supplying three kinds of Protocol: None, SSL and TLS
Developer mode
Other features of SMTP extension
Open source 100%.
Easy to install and configure.
User-friendly interface.
Life-time Support.
Life-time Upgrade.
30 days guarantee money back.
Fully compatible with Mageplaza extensions
Supports multiple stores.
Supports multiple languages.
More Information

| | |
| --- | --- |
| PROVIDER | MAGEPLAZA |
| PLATFORM | MAGENTO 2 |
| CURRENT VERSION | 1.1.3 |
| TYPE | STABLE BUILD |
| CATEGORIES | N/A |
| COMPATIBLE WITH | COMMUNITY 2.1, COMMUNITY 2.2 |
| MAGENTO APPROVED | Yes |